Contact us
Free shipping on U.S.*
orders over $85.00

101 Uhland Road Suite 201
San Marcos, TX 78666
(512) 353-5130
Thomas Wooden Railway:
Last updated 7/9/2015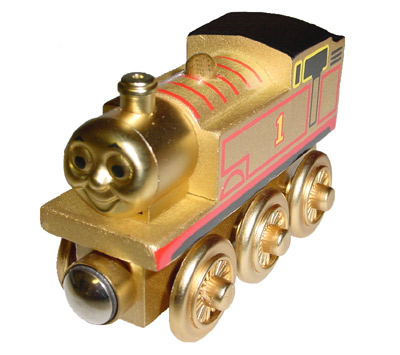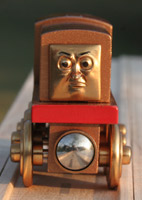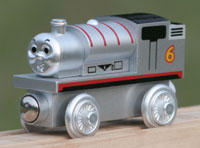 Thomas' Sodor Celebration
For 60 years, Thomas the Tank Engine has been "Making Tracks to Great Destinations" with classic stories that inspire timeless values!
Ride the rails to exciting adventures with Thomas and his friends in this collection of stories from the #1 engine!
Hop on board as Thomas learns to navigate a difficult bend on his new route - in spite of a runaway train. Watch Thomas and Percy work hard to achieve their goal of being the cleanest engines, while learning to never give up!
And whether moving a circus or delivering chickens, Thomas finds that sharing the load makes things easier. The celebration continues with more stories, more lessons and more fun from Thomas!
Stories include: Thomas saves the Day, Don't tell Thomas, Fish, Halloween, Spic and Span, Chickens to School and Thomas and the Circus.
Running Time Video: 60 minutes
Special Limited Edition Golden Thomas
(included with Video)




Availability: Sold Out
Golden Thomas Engine and
Thomas' Sodor Celebration VHS Video
Special Limited Edition Bronze Diesel
(included With DVD)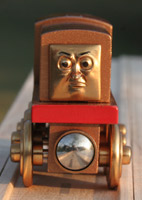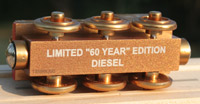 Running Time DVD: 150 minutes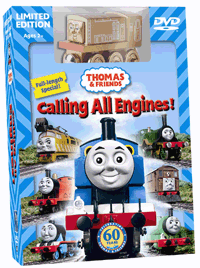 Our Price $19.99
Availability: In Stock
Calling All Engines DVD
and Bronze Diesel
Songs from the Station
Steam ahead to the Island of Sodor with Thomas and the engines for a true blue celebration filled with your favorite songs from the station!
Song tracks: Sounds, Emily, Surprises, A World Around You, Determination, Patience is a Virtue, Ode to Gordon and Engine Roll Call.
Plus 2 Bonus Story Stops
Running Time VHS tape: approx. 40 minutes
Running Time DVD: approx. 120 minutes
Special Limited Edition Silver Percy
(included with DVD and Video)
Our Price $15.00
Availability: Sold Out Silver Percy Engine and
Songs from the Station VHS Video


Availability: Sold Out

More Thomas the Tank Engine DVD's